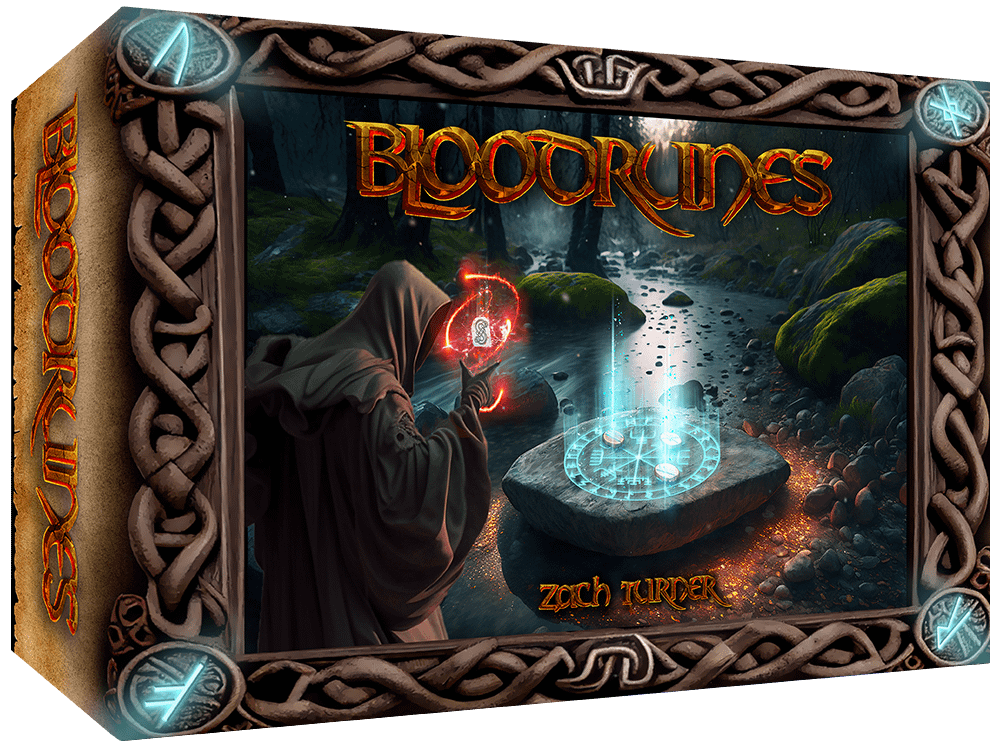 BloodRunes is now available on Amazon! Click below to preorder now. All orders will arrive in August!  Thank you so much for your support and love of games. 🙂


In the new board game, BloodRunes, you are a Rune Caster for your clan. Can you cast the right runes onto the shared board to bring good Fortune to your clan or will you make a wrong move and allow another clan to steal from you?
In this strategy pattern creation game, you'll need to watch the spell books of others while setting up your runes to bring you the most Fortune and win! Be sure and protect yourself with wards or break other wards to steal from opponents. If the wild rune of Loki shines upon you, be careful, it could help others as well. 
BloodRunes was successfully funded on Kickstarter!  We raised a little over $6,800 to bring this project to life.  Thank you to everyone who backed the project!  You are all awesome and beautiful people!  
Really enjoyed the pattern building, tension in the choices, and paranoia-inducing player interaction.
Join the Newsletter
Stay up to date on release dates and blog posts by subscribing to my newsletter. Thanks again for your support.

Game Designer and Author
Zach Turner
Zach Turner graduated from the University of Southern California and went on to be a Professor there before he went into Game testing and eventually spent many years in the Healthcare industry.
He now lives in Austin, TX and works as a writer, photographer, artist, and board game designer. He has travelled all over the world and, among his many hobbies, likes to do acro yoga, wake surf, and snowboard.
Zach talks a lot about the Feeling that drives him and other creatives. It's that Feeling that keeps the spirit of innovation alive. To learn more, please click "My Story" below.
By Zach Turner
Mortimus Walker
And the Secret of the White City
A NOVELLA
Morty is a One. He's been laboring his entire life, but finally it's his sixtieth birthday. Time for him to retire his old body and travel up through the clouds to the White City where he'll begin his new life as a One-Two. He'll be given a new body and anything he wants as reward for his service. But once Processing begins, things don't go exactly as planned. Can Morty figure out the secret before he is lost in the System all over again?
A fascinating read, the author taps into our constant quest for perfection, for a better life, and for that perfect love, but as with most things, they won't come so easily.
Other Projects
Currently, in the process of writing, editing, designing, marketing, and publishing the titles below. Nothing is currently purchasable, but please Subscribe to the newsletter to stay updated on release dates! Thank you for your interest. You are what keeps me going. ?
Visions
Visions follows the story of a teenage girl named Xandra. She starts getting visions of memories she's never had. She sees a boy being tortured and is convinced he is real and needs help. She and her friends go on a quest to save him and along the way, she realizes she has more power than she knows.
Leaving Spera
When Kel Nahat was a boy on Spera, he used to run through its violet fields without care. But all that changed when his life took an unexpected turn and he let himself be overcome by hatred. His quest to escape his darkness inadvertently puts him in the middle of an ancient war and he may be the only hope to save Spera and his people.