We had the BloodRunes launch party on Tuesday and it was a great turn out!  Thanks to everyone who came out to support and everyone who backed the project day one!  We got to 38% the first day!  I was hoping for 50% so that KS would start promoting for us but 38% is not bad!  We're currently sitting at 47%, so close to 50%!
Looking at the stats, there's still a long way to go and backers have dropped off significantly.  Check out the charts below.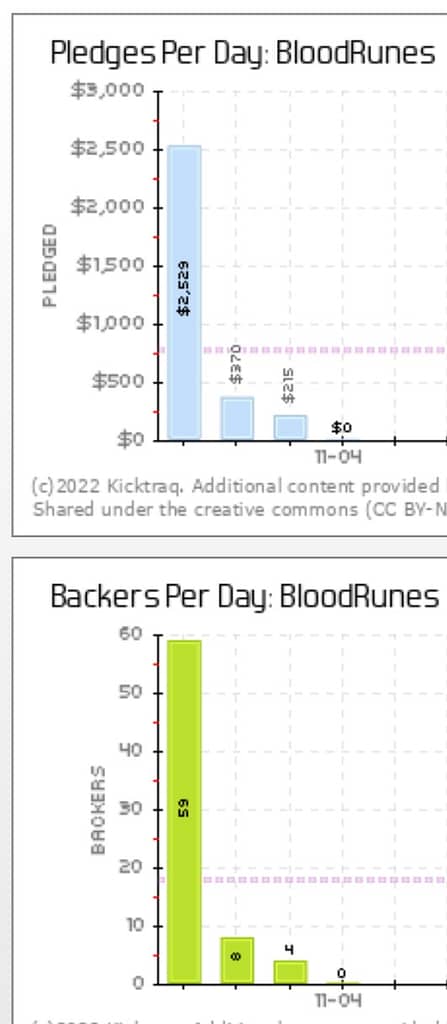 On the upside, 59 backers day one is amazing!  Also we've gotten some new pledges every day.  On the downside, very sharp drop off and we still have a very long way to go!
Headed to BGGCon next week. I've reserved dozens of hours of playtest table time to try to promote BloodRunes and hopefully we'll get some backers that way.  But I'll take whatever help yall can give.  Spread the word to friends and board game groups.  The more people hear about BloodRunes, the more likely they are to pledge.  And if you haven't backed yet, please do!  There are some great add ons on there as well, check out these beautiful creations to accompany your BloodRunes game 🙂
Here's what I've done so far:
lots of social media promotions.
prelaunch and launch parties at game venues around Austin.
sent updates via social media and newsletter.
reached out to local retail stores to gauge retailer interest.
sent BloodRunes to several online reviewers to try and gain the interest of their followers.
I am open to whatever ideas other people have.  How else could I promote BloodRunes to gain interest and make sure we fund this thang?