Since I was a kid, I've felt that need to write. There's a Feeling I talk about a lot. It's the Feeling that what you're thinking, the stories your mind is creating, need to be written down, they need to be fleshed out, detailed, and shared.
Then there's the Feeling of actually putting it down on paper: writing a scene that makes you cry because you feel the depth of everything that makes your character who they are.
Penultimately, there's the Feeling you get when you read it in it's finished state. For me, having a terrible memory, often times I get to reread my work as though it's the first time and if it Feels good, if it Feels right, then I know it is what it should be.
Most importantly, there's that Feeling that readers get when they read your work. It's your very own, original story, that came from your brain and they connect with it; sometimes in the same ways you did, but very often, in completely different, but just as exciting ways. And that Feeling is the Feeling that I write for. ?
Board games were a huge influence for me growing up as well. It was a safe place for me to learn to problem solve, make mistakes, beat my friends and family, or lose without real consequence. I've always loved solving problems, and playing board games allowed me to do that in new worlds and rule sets. Now, designing board games let's me create the problems I need solved and let the solver have fun interacting in the worlds I create. 
That Feeling you get when someone creates a new strategy you never thought of in a game you created is awesome.
This about me page is really about that Feeling, because that's what I'm constantly searching for; and I would argue, that Feeling is what we're all searching for. I hope you're feeling good in your world today. If not, escape to another one. ?
A fascinating read, the author taps into our constant quest for perfection, for a better life, and for that perfect love, but as with most things, they won't come so easily.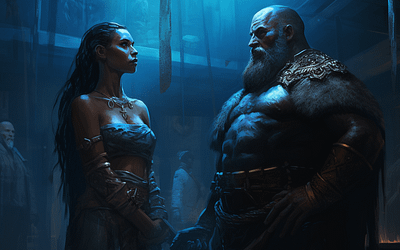 I have decided to fill in some of the lore of the these characters from BloodRunes, starting with Furra, the Aksumite village girl, turned slave, turned nomadic leader and finally seer of the gods. She has finally arrived in Norge, captured by the Blair clan and...
read more