Problems with Amazon Orders
Many of you purchased BloodRunes via Amazon. Unfortunately, due to the shipping and customs delays, Amazon cancelled all of those orders.  No one's credit cards were charged.  I would love it if you could go back on Amazon and re-purchase BloodRunes.  Sorry for the inconvenience. I'm learning a lot about padding lead times for overseas manufacturers.
New Amazon Orders
If you'd like to purchase a copy of BloodRunes, the best way to do that is on Amazon! I'd also love it if you leave a good review once you've received your copy.  Thanks so much for helping get BloodRunes into the world. 🙂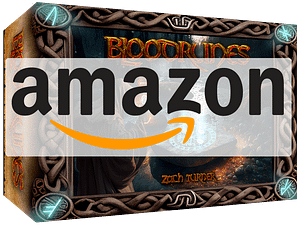 Click here to go to the Amazon page.