BloodRunes is now 1 week into its 4 week campaign to become a successfully backed and funded game!  And guess what?  We're more than half way there!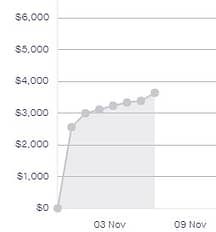 We are 54% funded!  I'm so excited cause these projections tell me we're within a high realm of likelihood to get successfully funded!  And with BGG Con next week, we should get some more support from there.
The first week has been amazing.  The launch party was so fun. We had a tournament and gave out some cool stone runes to the winner of the tourney and we'll be doing that again soon at BGG Con. I played BloodRunes more throughout the week with new and old friends and we're keeping the momentum going!
BGG Con
In case you've never heard of BGG Con, The Boardgame Geek Convention is 5 days of 24 hour game play, complete with exhibition halls, costume contests and more!  It's a really good time and my first time back since the Pandemic.
If you're going to be there and want to play some BloodRunes, I'll be at almost every ProtoAlley time slot with BloodRunes set up and ready to go.  Come on by or send me a message and we'll play!  Everyone who backs during the convention, Wednesday thru Sunday, will automatically be entered into a raffle to win some beautiful healing stone runes!  protip: even if you can't make it out to the convention, back during these days to get into the raffle!
I cannot express enough how happy I am that so many people have showed up for this project!  Promotion and marketing is the hardest part of an artist's job and to see it all coming to fruition is a beautiful thing.  Let's keep it up!  See yall at the Con!