Are you tired of logging in to multiple social media accounts to post content and track performance? I am too. It is sooo annoying to have to repost the same posts, reels, and stories onto each account! For the last couple weeks, I've been trying out HootSuite
Hootsuite makes managing social media accounts a breeze with its user-friendly interface, scheduling tool, and analytics. In this review, we're going to talk about the different features and if it's worth the high price.
User-Friendly Interface
One of the most significant benefits of Hootsuite is its user-friendly interface. Even if you are not tech-savvy, you can quickly navigate the platform and start managing your social media accounts. The dashboard is well-organized, providing a comprehensive overview of all social media channels in one place. You can easily monitor and respond to mentions, comments, and messages, ensuring that you never miss an opportunity to engage with your audience.
And if you use Canva, it has Canva integrated into it so that you can create compelling content and post it without leaving the tool.
Hootsuite will also suggest post ideas to you if you can't think of anything to post that week. Or you can use your friendly Notion AI like I do. ?
Scheduling Tool
This is my favorite feature of Hootsuite. Not only does it allow you to schedule posts in advance, which is a real time-saver, but it will suggest to you the best times to post your content based on average user activity. With Hootsuite, you can plan your social media content for the week or even the month ahead, ensuring that you maintain a consistent social media presence. This feature is especially useful for small businesses that need to post regularly but may not have the time to do so.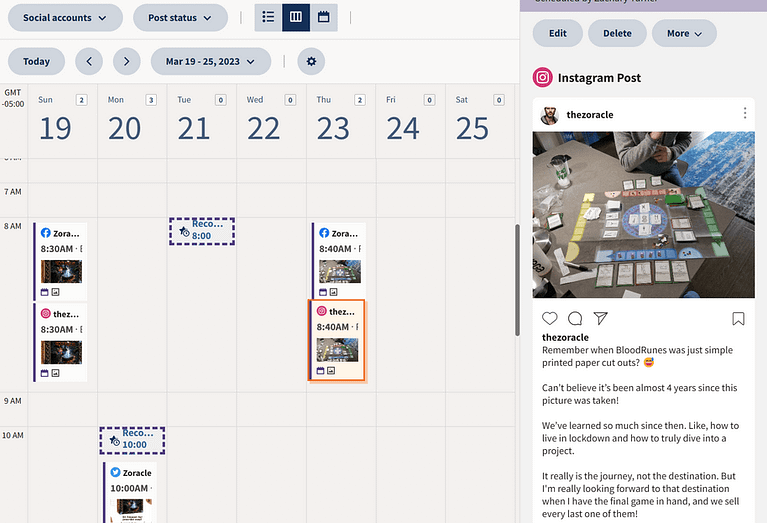 Analytics
Hootsuite offers some pretty good analytics that provide insights into social media performance. I know I haven't even scratched the surface of what these reports can generate, but it seems pretty all-encompassing to me. You can measure your reach, engagement, and overall social media performance. You can also track the performance of individual posts, allowing you to determine which content resonates most with your audience.
Customer Support
I made a booboo. I continued to use Hootsuite past my trial period without cancelling, so they charged me the full $1,200 for the year. ? So I opened a support ticket and they got back to me within 24 hours and while they didn't refund me completely, they did charge me for one month and then refund the rest which is fair enough.
Downsides
The biggest downside is the price point. It's $100 bucks a month at the cheapest. ? That's a steep cost just to automate your social media bullshits. That being said, it's the best tool I've found so far. However, I'm going to keep looking in the hopes that I find something cheaper.
Another point to note is that it cannot post to personal facebook and instagram accounts. This is more commentary on Meta than on Hootsuite though. Meta does not allow you to automate personal posting anymore, which is very unfortunate. That means sure I can automate posts with Hootsuite to my business accounts, but then I'd have to go in and share manually onto my personal accounts. But that's going to be the case no matter what social media manager you use.
Conclusion
In conclusion, Hootsuite is an excellent social media management tool that can help you streamline your social media management efforts. I can't say yet if it's worth the price or not, but thus far, it's the best I've seen. Have you used Hootsuite? What has been your experience?