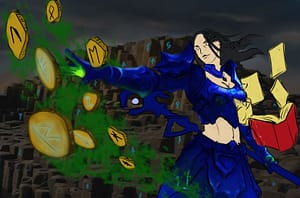 I've been staring at this unfinished painting for over a week now!  It's meant to be the new cover to the BloodRunes board game once it's finished. However, I seem to be very unsatisfied with it, so much so that I let it sit and don't finish it.
I feel like I do this with a lot of things. ADHD doesn't help but I try to push through. I find it helps to reach out and either get encouragement or advice for a redirect. So I'd like to ask three questions of you. And please feel free to answer them in the comments below (if you have any problems with it, let me know that too).
1. What do you do to stay motivated?
2. What kind of art would you like to see on the box of BloodRunes?
3. Should I just hire a better artist to knock this out for me? If so, know of any?
Can't wait to hear yall's feedback! 😀