As you know from the last post, BloodRunes is on its way! In fact the first copy has already arrived on a very fateful shore. It seems appropriate that this Viking themed game should make its first landing upon the ancient shores of Iceland! Congratulations to Alex, who just received her set of BloodRunes! Guess I'll have to hop on a langskip and chart a course to the frozen north so that I might play a round or two and sign the box for her.
Now I know what many of you are wondering, "Why did she get her copy first, what about me?!" I know I know, put the hammer down; let's not do anything rash. Your copy is coming! Iceland is a very difficult place to get to and so not many cargo ships travel there. As a result, for sending one copy of BloodRunes to Iceland, I had to use a more expensive courier service. Lesson learned. And that resulted in a much more swift and direct delivery for Alex.
"So when will I get my game then?" Patience, my formidable Viking friend, BloodRunes is on the way.  In fact, it's making its way down the coast of Mexico right now! In a few days, it will pass through the Panama Canal and then back up to Texas!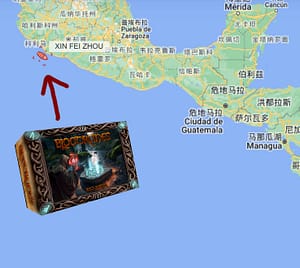 We'll be having a Rewards party here in Austin in early September. More details to come. If you can't make it to the party, no worries it will be shipped out to you!
I'm super excited that things are coming together.  There's still a long way to go and a lot more games to sell. I have a pretty aggressive marketing budget set for the rest of the year. I need to make that money back in order to rationalize launching another game, but I hope I can because the expansion for BloodRunes, called Curse of the Gods, is almost ready! I'm also writing back stories for the rune casters you play as in the game. There's so much to do and I'm sure I'm not doing any of it in the right order but doing it anyway, wheeeee!  lol